Brynn W. Casey
Marietta, GA
When did you get your start with Art?
I have always been interested in art, but I really started pursuing learning about it and studying it when I was in high school. This led me the decision to study fine art in college, which really put me to the test!
What inspired you to begin creating visuals of the oceans?
A professor challenged me to face my fears of creating expressive artwork. I had always been a hyper realistic draftsman by trade, yet always admired the abstract expressionist artists, so when he suggested I try it myself, water seemed to be a difficult yet meaningful subject to tackle.
What technique do you use?
I use a lot of thin layers of paint, known as glazing.
You do a great job at capturing the different ebb and flows of the ocean. Each painting has a different color and feel. Do your pieces have any deeper meanings?
YES! Each and every piece resembles something different for me. I struggle a lot with fearing failure, so the representation of walking on water as well as facing fears is a big "deeper meaning" for me within the whole series. I also like to study how water can sometimes evoke a hopeful, peaceful nature while other times evoke a tumultuous, unknown and stormy feel. It really lends itself to a lot of emotion!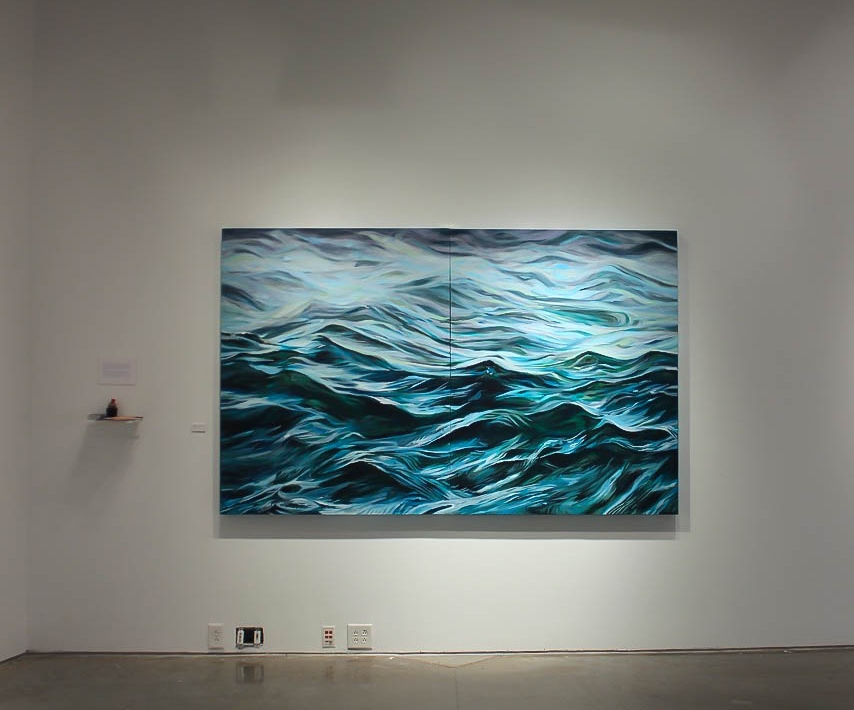 When I look at your work (which I usually end up staring at for long periods of time lol), I find them incredibly relaxing. Do you get the response often?
I do hear that quite often, and I LOVE that response. I love it. It makes me feel so happy and fulfilled that others can feel a sense of relaxation and peace of mind when they are experiencing my work. I personally struggle with a lot of anxiety, so it means a lot to me to have mental relaxation as well as provide an avenue to potentially give others that experience as well.
What are some of the challenges you have faced as an artist?
FEAR. Fear of failure, fear of being too insecure to succeed, fear of not being good enough. All of the common fears you'd imagine when you'd start your own business/brand as well as putting yourself out there. My paintings are a pretty large representation of myself, so letting go of the fear of what others may think of them is a huge mountain I've been climbing both professionally AND personally!
Any upcoming projects?
I feel like I've been wanting to go back to my roots a little bit and deep my feet back into some of the old driftwood paintings I used to make... so I've been playing around in the studio with those a bit. We will see where it takes me! Maybe just another small avenue of my business and brand!
What life motto do you live your life by?
Failure is necessary to succeed, because if you never fail it means you never tried!
For more information on Brynn, please visit www.brynnwcasey.com and follow on social media @brynnwcasey.art