Matthew Muir
Tucson, Arizona
How did you get your start in Art?
As early as I can remember, I have always been creating art in one way or another. My father was an artist, so naturally, growing up around it, helped to shape my craft early on. As a young child, I spent most of my time in my room drawing. I can remember no test or homework arrived on my teacher's desk without doodles filling the sides of the white border. I would argue with the teachers about how it's a waste of a page to leave that edge uncovered with art. I was defiant even at a young age. If you were my teacher, I'm sorry. I realize now you were just trying to do your job.
How would you describe your artistic style?
If I had to put it in a box, I would say pop-surrealism with a dash of symbolism.
Where do you draw artistic inspiration?
The world.
For me, and this goes for all of my paintings, it's always about what do I want to say with this piece. How can I transcend the language to convey another issue that needs to be addressed?
What is the significance behind the TV substitution for the human head in most of your paintings?
Believe it or not, the TV substitute for the human head is a relatively new concept that I created for my show in Miami at "Art & Sol Studios." Coming up with the idea for the series titled "conclusions," I was in search of a concept that allowed me to cover a lot of different topics while keeping a cohesive concept throughout the artwork. Cabinet cards inspired the attire. In the late 1800's, there were cards that you would have your picture printed on and then you would visit your friends' houses and they would put your card in their album. Everyone would gather around to see who had come by the house. It was like Pokemon cards for their time. I like that period because of the Industrial Age. For the First time, the World sees that machinery can help humanity become free, and a great change happened. Another time a significant change happened was during the 1950's, and 1960's when we had the hippy movement and power to the people. The gears were turning and then the TV comes out and gets us all stuck. I feel the TV is a complete misuse of that technology. So, I hijacked the concept, and I am using it to challenge the viewer to rethink all that were doing to ourselves and the planet. Something you won't find on TV. The bright colors I use for my backgrounds create a sense of urgency in the piece.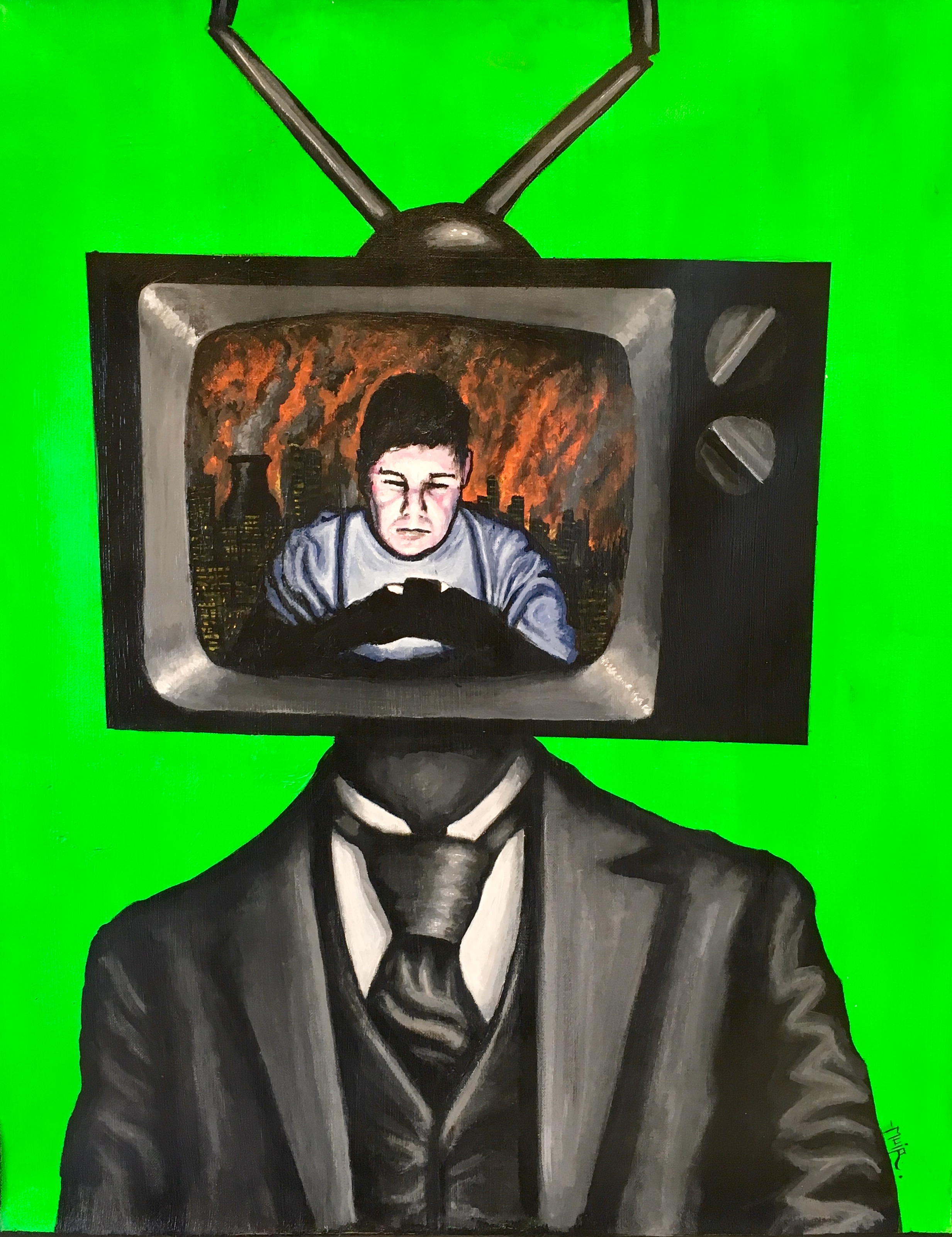 What are some of the challenges you have faced as an artist?
Not having four arms. Makes it hard to get the amount of work done I want to while I'm here. However, you have to take the good with the bad. I would probably look stupid if I had four arms and no one would like me. Life is all about balance.
What has been the most memorable response(s) to your work?
Well, I'm blessed to have so many great memories that it's hard to pick just one. The most recent one I can think of was in Miami while I was there during Art Basel. After explaining my painting titled "I am you" some of the people were moved to tears, and one person asked if we could do a circle group hug with the 14 or so people there at the time… and we did. Some of the people were strangers to each other, but in that beautiful moment, we were one. I loved that reaction.
Who is your favorite artist?
I f*%king love Banksy... Alex Grey, any other artist that pushes the viewer to think, to me, making art with no meaning is like growing a lawn instead of a garden. Both look good, but only one serves a purpose. I love this quote by Ernst Fischer: "In a decaying society, art, if it is truthful, must also reflect decay. And unless it wants to break faith with its social function, art must show the World as changeable. And help to change it."
On upcoming projects:
Currently, I have a show going on in my hometown of Tucson, Arizona with a pop-up gallery called "monsoon collective" I've taken over two rooms and a hallway in what used to be a doctor's office that closed down but has now reopened as an art collective. I'm showing alongside 26 other artists and each artist took over one or two rooms and was allowed to do whatever they wanted inside. The show started on October 1st and runs until January 30th. At the same time, I have my show in Miami with "Art & Sol Studios" that ran December 1st until December 31st. After the New Year, I'm going to be working with galleries from New York, Los Angles, and the United Kingdom. No dates have been posted, but I hope 2017 will be a great year for me, having two shows, in two states at the same time is not a bad way to bring in the New Year. . . A total of 46 paintings on display right now.
What would be your dream project?
My dream project would have to be to create something that inspires great positive change in our world but collaborating with Banksy or Alex Grey is my second place.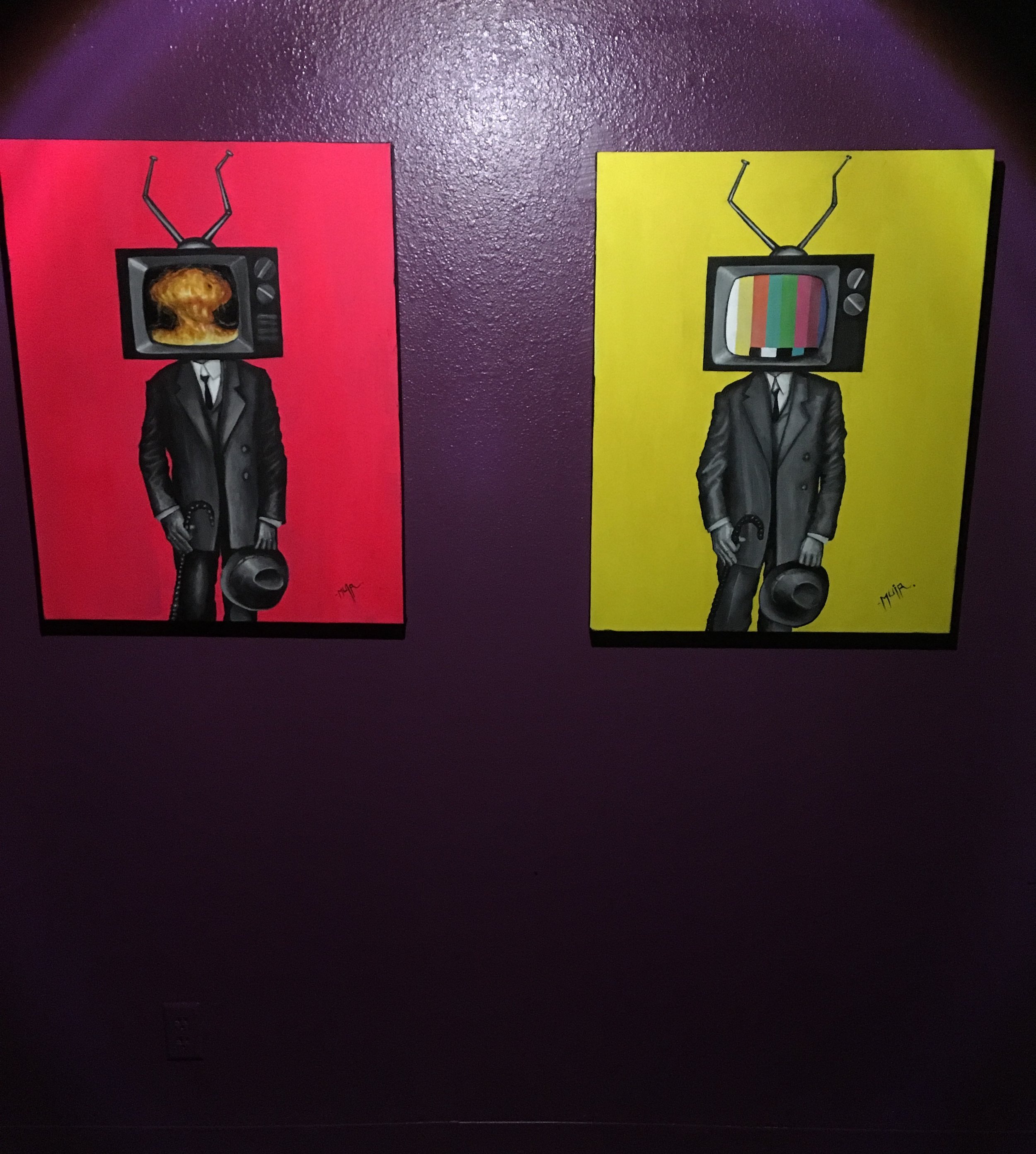 What is one motto/phrase/mantra you live your life by?
No one can do what you can do better than you can do it. So let go of the self-doubt and just create.
For more on this artist, follow on social media at @artbymuir