DUNN- The Signtologist
Denver, Colorado
How/when did you get your start in Art?
My mother is an artist and got me started on a creative path at a young age that continued into all my schooling. I have always done art as an outlet to express myself and stay grounded. I've always told myself that anything else that happens to me creating art is a bonus byproduct.
How would you describe your artistic style?
Street Sign Art, Urban Pop Art, Signtology
What inspired the use of signs in your work?
After seeing Star Wars, I wanted a lightsaber like most kids in that era and even still now. I remember riding around Denver with my dad in his El Camino. Imagining I had a lightsaber and chopping down every sign pole we passed. Fast forward to college still no lightsaber and trying to figure it all out. How a white guy with no rhythm from a cow town could find his creative voice in the hip-hop culture. This medium came from an accident I messed up on a late-night school project. Ended up using a no parking sign I had laying around instead of canvas. I had always been enamored by hip-hop and graffiti, but none of that culture was ever presented in my school studies. Through the exploration of this medium, it has become my vehicle to interact with those cultures in ways I would never have imagined
What are you some of the challenges you face in pursuit of your craft?
Any challenge I have ever faced in pursuing this craft has always given me more knowledge and increased my artistic skill sets. I stumbled onto this medium from an accident, so I welcome any challenges and approach them as learning experiences. One ongoing challenge with this medium has been finding supplies to create with. But by being flexible during this process, it has opened more doors and enhanced my craft.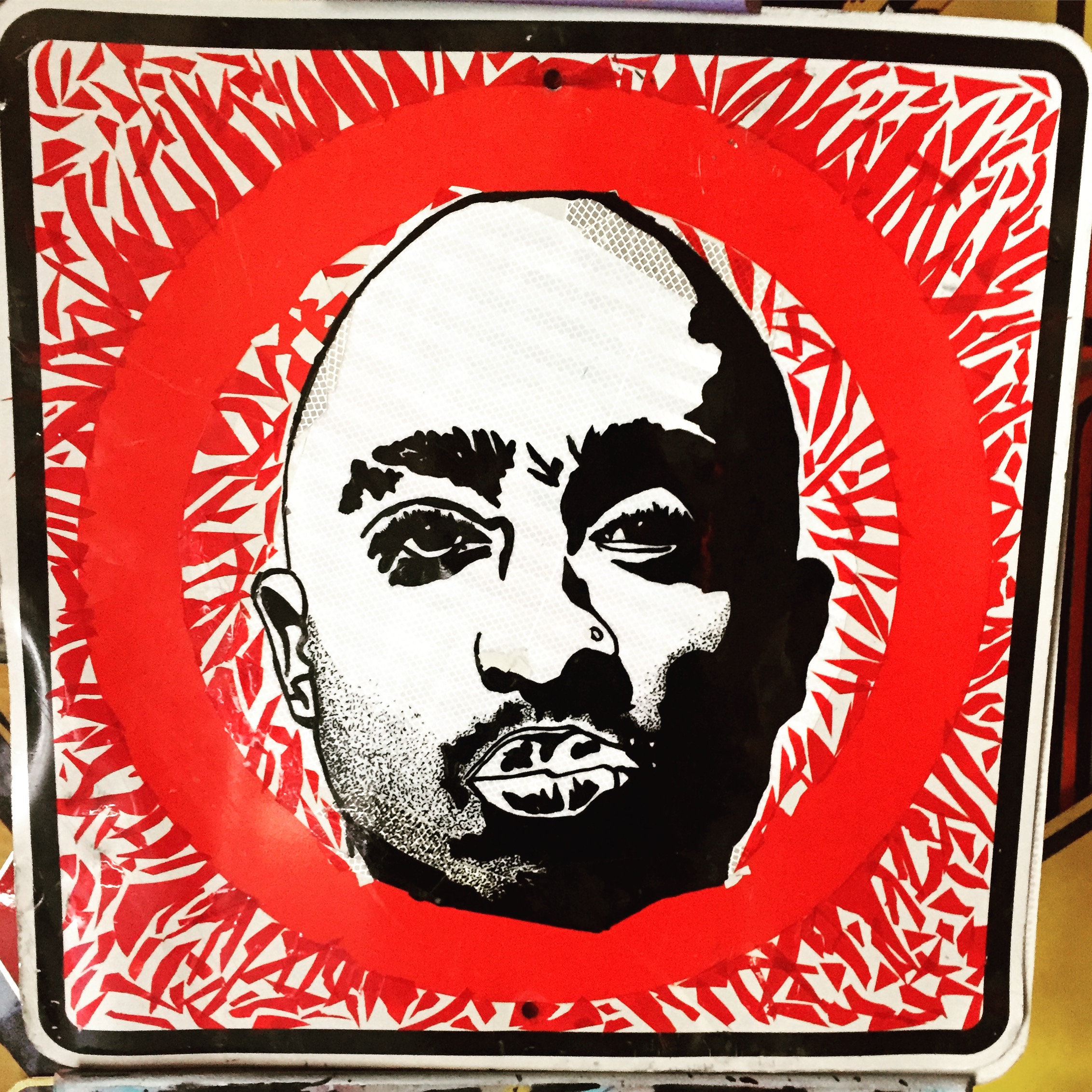 Who is your favorite artist? Why?
I have studied so many types of art and artists from around the world...A few that spoke to me in my school studies were artists like Van Gogh, Picasso, Warhol, Basquiat, Lichtenstein, and Bua. I grew up reading comic books and wishing I could create and draw like those artists. Most of the artwork I found myself gravitating towards as I matured could be seen in hip-hop magazines, album art, music videos or in urban settings around Denver. After art school, I was doing a weekly published comic strip, flyers, videos and album art for local music acts. I wanted to emulate how all these artists I studied and were inspired by possessed multiple skills. Using ingenuity and creativity, each artist carved out unique niches in the art world where their styles could thrive. This was the same point that I was back in school again for Graphic Design still searching for my style. It was also at this time was when I discovered this medium then immediately started exploring and began carving out my niche.
My focus has been family recently as we welcomed our second son, Noah early to the world on December 1, 2017. While Noah was in the hospital, I used art as a coping mechanism and created a few new bodies of work. Now with our entire family together at home, I have been writing proposals to create some art for the public. I've always wanted to put some of my signs back up outside. I think I'm closer now than I have ever been in the past two decades to install some work in public legally. As of 2017, I have a piece of my artwork in the permanent collection of the American Jazz Museum in Kansas City. I also am excited to be working with the Universal Hip Hop Museum in NY opening in 2020. I'm hoping this trend of working with museums continues into the future. I have worked up currently around Colorado at places like The Preservery, Brutal Poodle & Levitt Pavilion. In New York, I have been represented by The Richard Beavers Gallery for the past eight years. Visit my website to stay up to date on upcoming shows and events.
What quote or motto do you live your life by?