Series: GIANTS - An Interview with Writer/Creator James Bland
Los Angeles, California
Giants, an original scripted drama series about a group friends in Los Angeles determined to live life on their terms, no matter the cost. In a time when the world wonders if black lives matter, three millennials of color in search of their purpose, faces the issues of mental health, sexuality, and economic survival head quickly learn that when life starts to kick your ass, you either lie down or fight back.
Giants stars James Bland, Vanessa Baden, and Sean Samuels. Bland also serves as writer, director, and producer. The series is airing on Issa Rae's YouTube network, and actor Jussie Smollet serves as Executive Producer.
We spoke with the writer and creator of GIANTS, actor James Bland.
What was the inspiration behind the idea for Giants?
The inspiration for the series was Life. My life, my friend's life, things I had gone through and events that were happening around me. I believe art imitates life and I like to write from experiences.
You play Malachi in the series. What can we expect from the character as the series progresses?
One of Malachi's Giants is economic survival. One thing I didn't tell the audience in episode one was how he got to this place because I want it to unfold throughout the series. Malachi had a corporate job, and he was doing quite well for himself. He decided to quit his job and moved to L.A., not necessarily to pursue a dream, but to get away from a life he was unhappy with. Malachi didn't feel fulfilled or felt that he was living his best life. So when we meet the character in episode one, he is trying to make some money because he has run through his savings. Until Malachi can figure out what his life plan is, he is doing what he has to do to survive. Throughout the series we watch him make some decisions that are all linked to him trying to pay the bills, all of Malachi's decisions are related to survival and ultimately lead him to some challenges places and some obstacles he will have to overcome.
How did you come up with the title Giants?
Giants started as a short film I wrote around four years ago. During my first six months in Los Angeles, I was robbed at gunpoint. Two guys rolled up on me and told me "to give me your shit." I refused, and we got in the fight. I ended up getting shot, but luckily it was a BB gun. Shortly after, I was having a conversation with mom about the situation, and she told me how the story reminded her of David and Goliath in the Bible. The Bible says, when Goliath came, David said: "The same God that delivered me from the mouth of the bear and the mouth of the lion would be the same God that will deliver me from the hand of the Giant." My mom said "You need to stay in Los Angeles, continue your work and push forward. Those guys who robbed you were perhaps your lion or your bear, and sometimes you have to fight for yourself. Everything that you are going through at this time is only preparation for you to defeat your Giant." I took that conversation and turned it into a short film that was never made, but I always held that story very close to my heart. When things get tough, I remember "you have to defeat your Giants," and on the other side there is a victory. A lot of the concept and storyline of the series surrounds that theme.
The series covers a lot of in depth topics such as mental illness, sexual identity, and the overall pursuit to live your dreams, what life experiences did you draw from to write about these themes?
Most of the topics in the series are things that I have lived or things that my friends have lived. For example, the relationship that Journee and Malachi have is extremely close to the relationship that Vanessa [Baden] and I have. The scene from episode one where Malachi questions Journee about being home early from work is a real story. Vanessa showed up at my house one day, and when I asked why she wasn't at work, she said she couldn't stop her car [at work]. Journee also goes through a heartbreak in the series, and I was going through a breakup at the time when I was writing those scenes, so I wrote how I felt. I utilized life and what I have been through because I know these life experiences will connect with people because it comes from a very honest place.
What do you hope the audience will take away from the series?
I hope these characters are reflective, and the audience takes away a bit of truth, not just the truth of these characters, but the truth for themselves. I hope people know they are not alone in their struggles. We all have our Giants. We all want happiness, peace and to be loved. I hope people watch this show and through these characters, are inspired to live better lives, pursue their dreams, inspired to talk someone in their family or someone they know about mental illness, be more tolerated to someone who may be gay or maybe open to someone who may be struggling with their sexuality. At the end of the day, representation is important, and people need to know these people exist and matter. If you see yourself [in these characters] you know are not alone, and can make it to the other side.
How did you go about casting this project?
Living in Los Angeles, I have tons of friends who are actors. As I wrote the series, I thought about who I wanted to get to play these characters. Once the script was complete, I called friends who I thought would be a good fit. For the most part, everyone said yes. I did have a few people turn me down. One actress declined because it wasn't a paid gig. I funded this entire project out of pocket, and I could only afford to pay the crew to ensure production quality. I completely understood her reason, and I found another actress that is equally as talented. We all have to eat, but sometimes you have to invest and sow a seed.
From your first film project to Giants, what are some of the important lessons you have learned about the filmmaking process?
Filmmaking is a team sport, and you have to invest [in the process]. You have to invest in your equipment, and you have to invest in your production design. One thing I have been adamant about is production value. I understand production value isn't cheap, so I've committed to investing in my work. When you first start out, you have limited funds, but I've learned you have to sacrifice some things to yield the quality of a product you desire. Filmmaking is also a muscle, and you can't grow that muscle unless you use it. I will meet people who want to act or write, but they are waiting for an opportunity. If you are an actor, you find a way act; whether it's on stage, in front of a camera, or in your living room filming on a computer. Lastly, I've learned it will always be about the work, not only the work of preparation but the work of execution. A lot of folks start, but a lot of folks do not finish. You have to put the work in and know that good work has legs. If your work is good, it will find its way into the right places, and it will provide opportunities for you.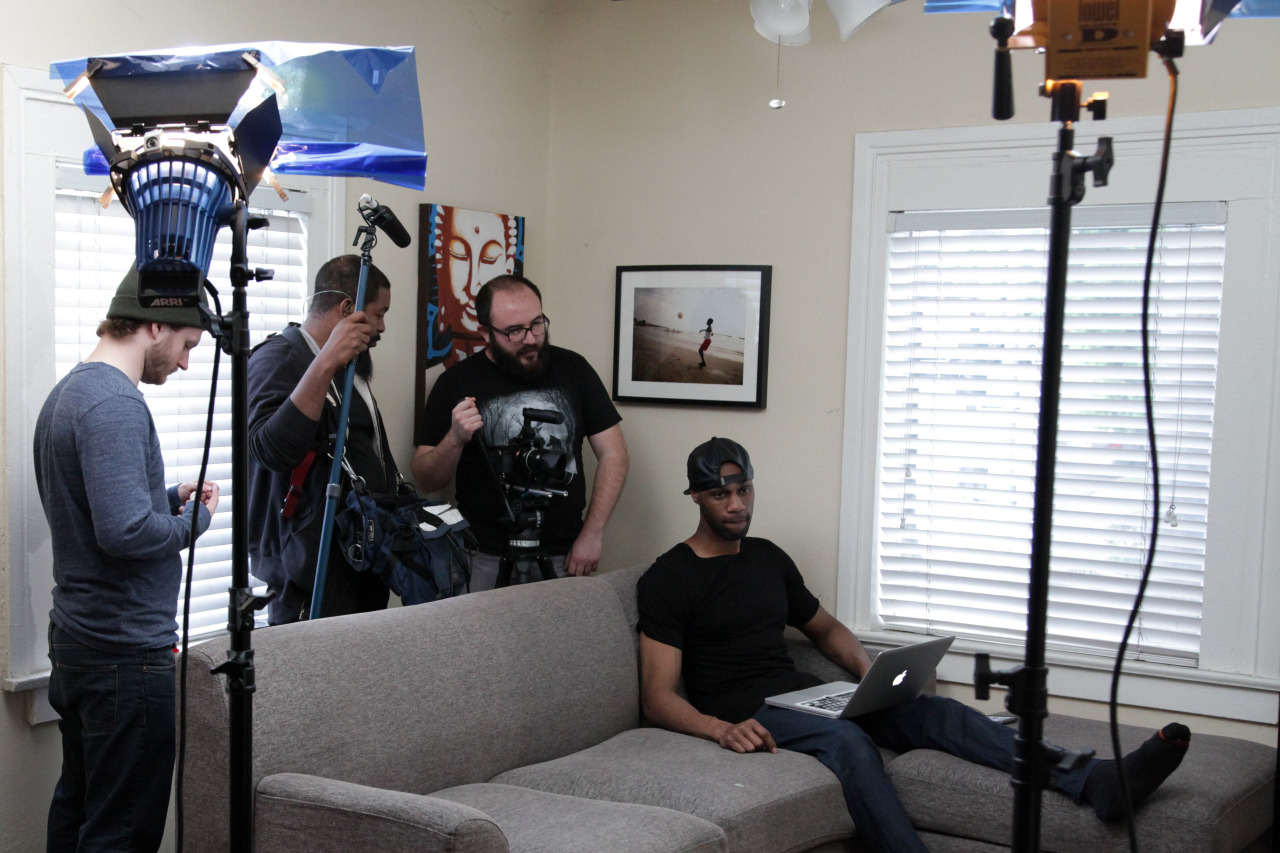 What do you think is the future of internet television and web series?
I think we are living in [the future] right now. We will continue to see more digital content on an independent level as well as the big budget studio level. The way we consume television is vastly changing, and it is going to become more accessible and provide more opportunity for more voices. The challenge for content creators is to break through the crowd. There are so many creators and so much content that it has become difficult to stand out.
What's next?
The Giants series has consumed my life for the past two years. I committed to myself not to work on any other projects until I finished the series. However, I am involved in a web series called "Get Your Life," which will premiere on Blavity, February 6. I'm an actor on the show with Amanda Seales (Insecure HBO). At this moment I'm doing some writing and figuring out what's the next story I want to tell. I'm definitely open to doing a season two of Giants if the opportunity arises.
Watch Episodes One and Two: