Lens Spotlight: Interview with Casting Director Rhavynn Drummer
Atlanta, Georgia
What sparked your interest in a career in casting?
Starting out, I didn't know what I wanted to do when it came to this industry. Two weeks after I graduated from college I began interning with Tyler Perry Studios (TPS) in 2007. I interned with different departments and worked with various producers on set. One day someone asked me what I wanted to do, I told them I wanted to do something with actors. In college, I acted and worked a lot with actors, so I was interested in getting back to that. An opportunity opened in the casting department, and it felt familiar. It felt like a home I had already known.
How has your experience been with Tyler Perry Studios?
It has been phenomenal. I feel like I have grown as a casting director and an artist as well. Before working at TPS, I have no experience on a professional set. I have been able to learn so much about the business and about producing work. I was able to meet a lot of talented actors. When I first got to Atlanta, there were very few projects, and the pool of actors was pretty small. To see how much it has grown ten years later is just astonishing.
What are the hardest roles to cast for?
Series regular characters are the hardest to cast because we need to find something who can carry a show for seasons, possibly for years. You have to find actors that are prepared for that. It takes an actor who is properly adjusted and ready for that level of performance and commitment.
During auditions, what are some qualities you look for?
I think a lot of casting directors will say confidence. I'm going to say it too but in a context. I think an actor must understand [casting directors] aren't trying to pick the person we like the most. We are trying to choose someone who we can trust on set. I think all casting directors are seeking to find an actor we can trust with the material and someone to elevate the work on set. When an actor comes in, and they are timid or frightened, it makes us feel that we can't trust you with this role.
Another thing is people who come in and are ready to play. Understanding that I'm not looking for perfection, I'm looking for you to make a clear choice, be flexible, and ready to play. I always hear "What I rehearsed last night is so different from what I'm giving you in the audition room," and that's fine. You have to understand no matter what you do; it is always going to be different. As long as you are prepared and willing to be ready to play, it shows you are flexible enough to make adjustments and confident as a creative being.
What are some risks or sacrifices you have made during your career pursuit?
One of the smartest risks I made was coming to Atlanta. I was on my "intern hustle, " and I didn't know how I was going to pay to live here. I didn't have any family or friends. I just came with the expectation that something good was here. My first six months in Atlanta were ROUGH. I was lucky to get through a week without crying. Someone told me to "bloom where you are planted," and those words have held me on my journey here. I believe I was put in Atlanta and at TPS for a reason. I thought I was going to be in Atlanta for one summer but this year will be ten years living here and working at TPS.
Also, anyone who has a career in the entertainment industry knows this is a lifelong journey that you are on. I've made a lot of sacrifices, both money and time, by self-funding my projects, not going out or doing some things I want to do to make sure I'm properly prepared for projects I have written or created.
Regarding diversity, what is the role of a casting director in ensuring equal representation?
I think it is crucial. The interesting thing about casting directors is we don't make the final decision. We are more of the human resources of talent. I believe we are responsible for opening up the dialogue with it comes to diversity in a role. There is a responsibility for casting directors to scout and showcase diverse talent and make sure producers aware of the talent that might not be what they were thinking. Casting directors have more power than they know when it comes to ensuring a cast is very diverse.
What advice would you give an actor going on their first audition?
Relax.
Understand casting directors are for you and not against you. If you have been called for an audition, most likely the casting director believes it's a good chance you may get the role.
Prepare more than you think you have to. A lot of people think preparation means memorizing the lines but there is so much more to preparation than knowing the material. You have to be emotionally honest with the character you are portraying so try and find as much emotional depth as you can. The character as a life and a journey. Make sure you know the character biography, know the obstacles and the objectives. The actor who has prepared the most and gotten into the depths of the character are the ones who end up getting booked.
You recently filmed a new project, brooklyn.blue.sky. Can you give us some details on the project?
brooklyn.blue.sky. is a web series that follows two writers, Blue and Skylar, who are old college lovers that come together after years apart to write a pilot for a Netflix competition. During the process of reuniting to write the pilot, they uncover details about the relationship they never quite settled.
I filmed the series in Brooklyn with another writer/director Dui Jarrod. Michael Oloyede and Jennelle Simone play our lead roles. We are currently in post-production and shooting to have it released during the summer.
There are so many fantastic television shows right now. In your opinion, which show has the best cast?
I know this is a little old, but the casting for People vs. OJ Simpson was beyond brilliant. I was impressed. Also, This is Us is another beautifully cast show and the characters feel so real.
What's next?
I'm working on the promotion for brooklyn.blue.sky. Also, I have a pilot for a comedy I wrote called "Before I met my wife" and I'm filming a sizzle reel this month. I'm going to begin work on a follow-up to my 2014 series Good Girls as well.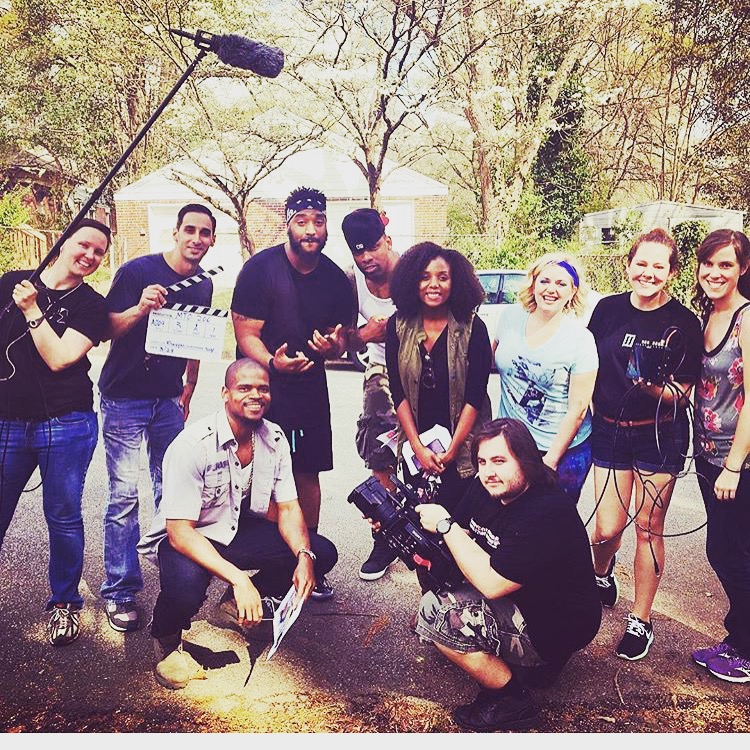 What quote or affirmation do you live your life by?
I live by so many, but my top two would be:
Take the risk or lose the chance.
The other has a little story behind it. When I was in high school, Ossie Davis and Ruby Dee would come to our theater productions because their daughter was my principal. Before we went on, they would provide some inspiration nuggets, and instead of saying "break a leg" they would say "take flight."
So I always keep that in mind. "Rhavynn take flight."
For more on this artist, please visit rhavynndrummer.com and follow on social media at @rhavynn